Jose Luis Hernandez: music, education, and hope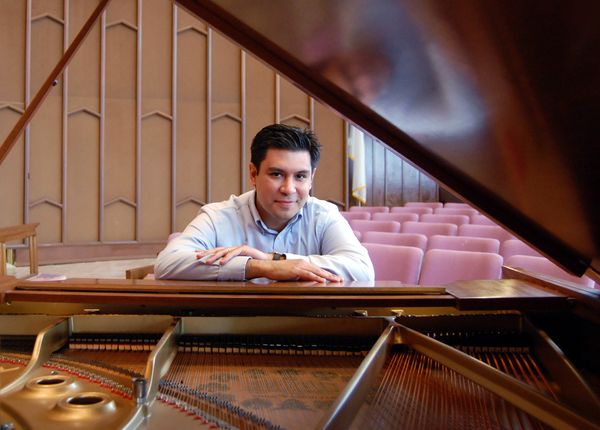 Jose Luis Hernandez is a visionary artistic and educational leader with a record of success as a conductor and non-profit director. He holds degrees in music from Texas Christian University (B.M. in Piano Performance) and the University of Texas Pan-American (M.M. in Orchestral Conducting). He was a Conducting Fellow at Bard College-Conservatory of Music and a Sistema Fellow at the New England Conservatory of Music. He also completed the "Leading Change in Education Systems" professional program of the Harvard Graduate School of Education.
Jose Luis is the Director of Sistema Tulsa at Boston Avenue United Methodist Church in Tulsa, Oklahoma where he has nurtured all aspects of this innovative music education program including artistic leadership, educational partnerships, branding, and fundraising ($1.5 million during its startup phase).
His music-making is polished and informed by reflecting on the affirming role that music can play in people's lives. He received transformative mentorship from the late Dr. José Antonio Abreu, the founder of the global El Sistema movement that connects music, community, and social justice. That experience led Jose Luis to publish his book, "Aesthetics of Generosity," and to make a South American conducting debut with the world-renowned Simon Bolivar Orchestra of Venezuela in Caracas.
His conducting experience also includes guest conducting the Hartford Symphony (New Haven), the Orquesta  Filarmónica de la UNAM (Mexico City) as assistant conductor finalist, and the Sinfonica Carlos Chávez Youth Orchestra in masterclasses with Finnish master-teacher Jorma Panula. He also learned orchestral repertoire from Peter Bay and Kirk Trevor together with the Round Rock (Texas) and Astoria (NY) Symphonies and participated in the New York Philharmonic's Conservatory Collaborations, an opportunity that led him to observe leading music directors in rehearsal. He was invited to conduct in the Natalie O. Warren presentation of Handel's Messiah with musicians of the Tulsa Symphony. The Signature Symphony engaged him to lead a run-out Pops performance and sectional rehearsals for their Mahler and Brahms masterwork concerts.
Jose Luis has worked with the Oklahoma Arts Institute Orchestra and the Sistema-inspired youth orchestras of Los Angeles, Atlanta, and Philadelphia. He travels to Mexico every summer to lead the Juventud Sinfonica, a pre-professional orchestral training program. He has worked with choir preparing works as varied as Handel's Coronation Anthem and Tchesnokov's Communion Hymn. Jose Luis is an insightful communicator with participation at the League of American Orchestras Dallas national conference, the LA Philharmonic's Take-A-Stand National Festival, the Van Cliburn Foundation Musical Awakenings© education series, and the Music Transforms Symposium at Oklahoma City University.
He has been featured in television broadcasts including OETA-PBS and has authored pieces in the Tulsa World and the New York Times. On Oklahoma Arts Day 2018, together with Sistema Tulsa students, he addressed the Oklahoma House of Representatives to highlight Arts Education.
Jose Luis began his musical journey as a pianist and chamber musician quickly gaining recognition playing as a soloist with orchestra in Mexico at age ten and touring in Germany shortly thereafter. Highlights of his piano career include a Dame Myra Hess solo piano recital on Chicago's classical radio WFMT, recording a full-length album at WGBH studios in Boston, premiering new works, and playing piano concertos by Bach, Rachmaninov, Schumann, and Manuel Ponce. He currently serves on the Board of Directors of Chamber Music Tulsa, the Artistic Advisory Panel of the Oklahoma Arts Institute Orchestra, and recently completed Chaplain training.
Semblanza en Español
Sistema Tulsa at Oklahoma Arts Day