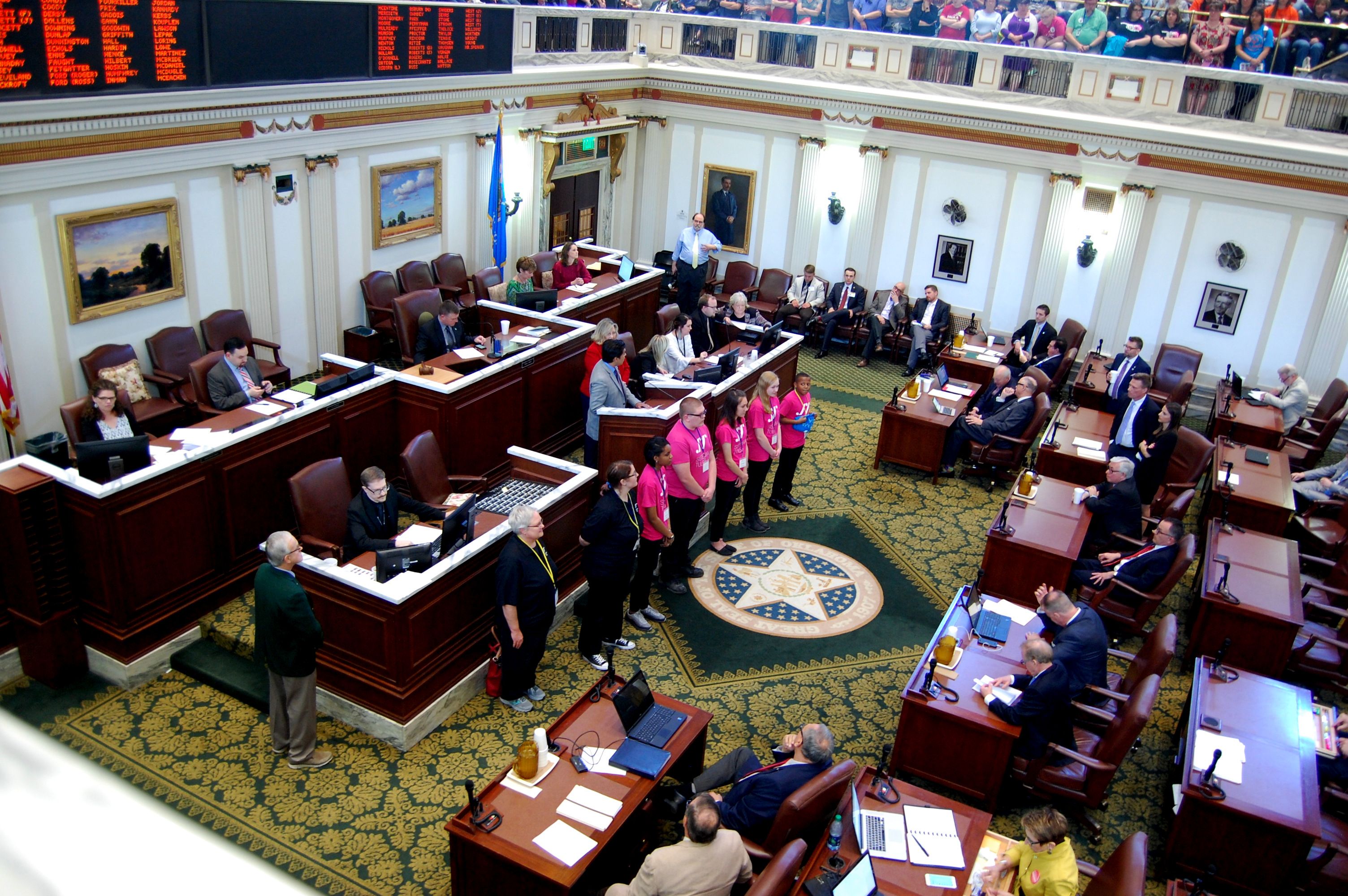 On April of 2018, Sistema Tulsa students and teachers traveled to Oklahoma City to participate as a featured ensemble of "Oklahoma Arts Day." The event was sponsored by the non-profit Oklahomans for the Arts and brought a group of forty young musicians to perform classical masterworks including the official state song "Oklahoma!" by Rogers and Hammerstein. The Capitol's south portico was filled with music and the atmosphere was festive. Students served as ambassadors for the advancement of arts education across our state. "This was our first tour performance, Mr. Hernandez said, "Our students shined not just as musicians but as citizens." The visit was championed by the Tulsa area Representative Karen Gaddis who also formally introduced the program before the House of Representatives and a Citation of Commendation and Congratulations was presented on the House Floor to students and leaders for their artistic and educational contributions to the city of Tulsa and the State of Oklahoma.
Here are my remarks on the occasion of Sistema Tulsa recognition with a citation of commendation and congratulations from the Oklahoma House of Representatives as motioned by Representative Karen Gaddis of Tulsa. 
Dear Mr. Speaker, members of the House of Representatives, Rep. Karen Gaddis, fellow Oklahomans. 
It is an honor to accept this recognition on behalf of Sistema Tulsa students and our team of tireless educators and leaders who believe that investing in the arts experience is a worthwhile endeavor. We at Sistema Tulsa believe that every youth (no matter who they are or where they come from) in this state should have the right educational opportunities that would enable them to thrive.  I know that you are working on taking historic and bold steps for education funding and are thinking about what education reform looks like.  Today we celebrate the Arts in our State and showcase how much impact the exercise of our creativity can have in our social and economic life. In our program we teach our student more than music, we teach them the art of compromise. In order for an orchestra to be successful and make great music, everyone must listen to each other and figure out what it is that they are trying to express. Take a look at a musical score and you see many moving parts all intertwined and complex and to make it work everyone must agree to focus on the same harmony, the same beat, and the same purpose. And then they take it to the highest level where nothing less than excellence is expected. Promise me you will think about this idea. This is the only way that we musicians can make beautiful music.  We wish you many blessings and Thank You for this recognition. We will do our best to continue our work and make it grow.